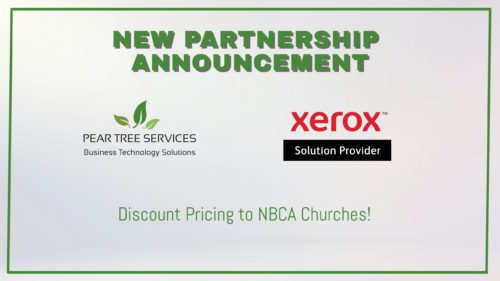 Taking the survey below is the first step to your church saving money! If you are looking for copier or not, completing the survey is a valuable assessment in understanding what your needs may be and how this program can assist you.
Discount Program Survey
PROGRAM OVERVIEW
Pear Tree Services, an Authorized Xerox Solutions Provider, and The National Baptist Convention of America Int'l, Inc. (NBCA) have joined forces to capture some on investments its members make in business needs. This discount program will enable members to save on their printing, copying, and supply needs. NBCA understands that equipment needs are different for churches based on membership size, budget and equipment features needed; therefore, we have made sure that this partnership will be beneficial for all types of churches within NBCA.
HOW TO GET STARTED IS AS EASY AS 1,2,3!
1. Complete the Xerox Technology Survey link below
Discount Survey Link
2. Contact Pear Tree Services, Xerox Solutions Provider at 800.316.9109 or via email at nbca@peartree-services.com to understand what equipment and discounts works best for you.
3. For assistance in getting started, contact Sis. Barbara Bookman, Executive Assistant for Partnerships at (844) 610-6222.
HOW THE DISCOUNT PROGRAM WORKS
Discount: Churches will receive the following discounts:
* A discount of 15% on all equipment
* A 5% discount on supplies purchased through eConcierge
* A 5% discount on all supplies purchased through the Xerox Partner Print Services with enhanced managed supplies services capability.