11nov(nov 11)9:00 am13(nov 13)1:00 pmLEAD Conference 2019
Event Details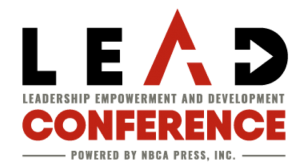 November 11-13, 2019 in Louisville, KY
Click on the link below to download a conference informational packet
LEAD Conference Informational Packet
HOST HOTEL: Galt House
140 N. Fourth Street
Louisville, KY 40202
Rates: Deluxe – $123.00 per night, plus tax or Suites – $153.00 per night, plus tax
Click here to make your hotel reservation online
CONFERENCE COST and REGISTRATION
The cost of the conference is $179.00 which includes the choice of a 3-day morning track, 2-day afternoon track, ground courtesy transportation and a to-go lunch on Wednesday afternoon. Hotel and course books are not included in the registration cost.
Partial Payments: You have the option to make partial payments when registering. There is a minimum of $50.00 required to enter the partial payment agreement.  The balance is due before the start of the conference.
Click here to register online
TRANSPORTATION
To sign up for transportation to and from the airport, please complete the transportation form.  A 15.00 gratuity is appreciated for the driver. NBCA Press will be providing transportation to and from the conference each day.
Click here to complete the online transportation form
CLASSES
Morning 3 Day Courses (Select 1)
Pastoral Leadership and Ministry for the Church and Community- This exciting workshop for pastors will explore important social and church issues affecting 21stcentury pastor's and churches with Dr. Brogdon. The next two sessions will be taught by two cutting edge pastors doing effective ministry in church and the community. Drs. Cosby and Williams will teach how to develop new and strengthen existing ministries for both the church and community.
When it Hurts to Go to Church – Movements like "Me Too" and recent discussions about church hurt have brought to light the hidden pain people bear in church and the community. This powerful workshop will teach you how to develop ministries that provide a space for honesty, healing, empowerment and restoration.
Discovering and Using Your Spiritual Gifts – This course is designed to help students understand who God has uniquely made them to be. In addition, in this course, students will work through a spiritual gift assessment that will help them discover their spiritual gift(s). Discovering their spiritual gift(s) will prepare them to move into a meaningful area of service where they best fit into the body of Christ.
Connecting with Millennials in the Black Church and Community – Many African American churches are "boomer-dominant" and are still exploring the best ways to connect with millions of millennials who are absent from church. Developing multigenerational ministries are critical to sustaining the health and growth of your church.  This workshop will provide proven strategies to connect with and minister to millennials from a highly successful pastor in Louisville. If you want to revamp and revitalize your youth ministry and church, then this is the workshop for you.
Afternoon 2 Day Courses (Select 1)
Expanding Your Sunday School and Bible Class Through the Use of Technology – In this increasingly digital age, what is the role of technology in Christian Education? Come learn how to expand your Sunday School and Bible Class to include the various social media platforms, and other technology; while still maintaining the one-on-one connection with the students present in the class. Whatever size your Sunday School or Bible Class is, this class will help you explore technology options to revitalize your Christian Education department.
How to Lead in a World of Distractions – While many leaders have learned how to tune out distractions that keep them from being productive, they remain deaf to their inner desires and emotions. This class is for leaders who want to transform their emotional distractions into transformed leadership, so they can focus on what is most important for their spiritual growth and ministry.
Implementing an Assistant Ministers Training Program in Your Church – Associate or assistant ministers are important to pastors and the health of the church. In order for ministers to support the pastor and church, they need training and ongoing support. Interestingly, churches do not always provide ministers with much needed support or when they do it could be more effective. Has your church's associate or assistant minister's monthly meeting become stale and sporadically attended? If so, this is the workshop for you. Learn exciting new ways to revamp this important ministry.
Equipping Pastors and Leaders to Respond to the Afrocentric Debate in the Black Community – Open racial animus against African Americans is on the rise. In response many African Americans are being drawn into Black Nationalist movements because they were told Christianity is the religion of their oppressors. This exciting workshop will interrogate this claim and discuss the importance of understanding Afrocentrism and using aspects of it in your preaching, teaching, and churches. Pastors and leaders will learn how to use Afrocentrism as an evangelistic tool.
Mental Health and Wellness in the Church and Community – As mental health continues to receive national attention; people are now looking to the church to provide educational forums and the facilitation of mental health services to members in the church and community.  In some churches, depression, anxiety, bipolar disorder, and counselors or therapists are still uncomfortable topics to discuss. Come learn how to talk about these and other mental health topics in your church and how churches can provide avenues of healing for people in their communities.
For additional information, please contact NBCA Press at 800-543-4019 or NBCA Headquarters at 844-610-6222.
Time

11 (Monday) 9:00 am - 13 (Wednesday) 1:00 pm